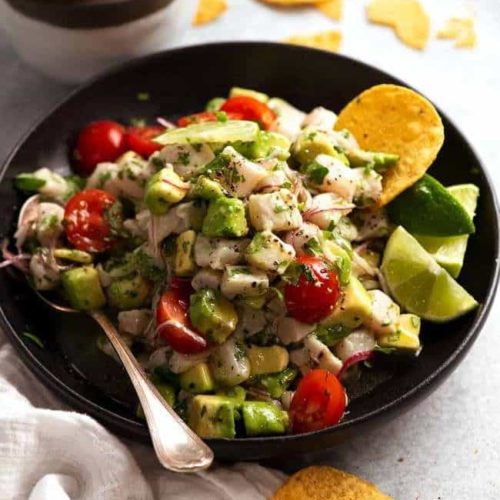 Ceviche
Originating from the west coast of South America, today ceviche can be found in various forms from Mexico down to Peru and beyond. It's also a dish that has been embraced by fine dining establishments around the world. It plates up elegantly and is an ideal light seafood starter to precede a richer main. Plus, it's the sort of dish that people don't ordinarily think of as simple to make at home, so restaurants readily charge a small fortune for it.I'm here to bust that myth! As long as you can get your hands on sparkling fresh fish, ceviche is dead easy to make – and super quick too! Buying sashimi-grade fish suitable for raw consumption is readily available these days, making dishes like ceviche infinitely accessible for ordinary folk like ourselves!
Ingredients
FISH:
400

g

14 oz kingfish

tuna, sea bass or other sashimi-grade (only) fish

1/4

red onion

very finely sliced.

2

tsp

fresh jalapeño

finely chopped (or green chilli)

8

cherry tomatoes

halved (large ones quartered)

1/4

tsp

black pepper

1/3

cup

lime juice

fresh
ADD INS:
SERVE WITH:
Plantain Chips, Corn Chips, or Chips of any kind
Instructions
Cut fish into 1.25cm / 1″ cubes.

Place in a bowl with onion, jalapeño, tomato, pepper and lime juice. Gently toss, then set aside for 5 minutes, mixing gently once.

Ceviche will be good for 20 minutes or so, then fish will start to overcook and firm up. Do not leave overnight (for food safety reasons).